Denne side indeholder opstillinger,
til både inspiration til egne sammensætninger, såvel som et kig på en lidt måske anden måde?
? er det noget du kan bruge ? / is that something you can use?
så mail til mig på info@photo-d.com / then mail me at info@photo-d.com
This page contains arrangements,
for both as inspiration for your own creations, as well as a somewhat different way of viewing?
Problem
(måske...?):
- der er adskillige / mange gode optagelser på Karting i Billeder du godt kunne tænke dig;
men at få valgt både hvilke og størrelse, er ikke til at overskue ...

Løsning:
"lav albumsider
med / efter dit billedvalg"
- udvælg billeder fra både før og nu, der skal med i din personlige samling og få tillige lidt hjælp til at huske
såvel hvornår og hvilken begivenhed det var.
Det kan ses hvordan
på eksemplet hér =>
Side(r) kan leveres såvel
elektronisk (som .pdf-fil)
som
udprintede enkeltsider.
Som std. trykkes på 120 gr. "matt coated".
Tryk på begge sider (option) er også muligt og afslutningsvis kan laminering (option) beskytte alt.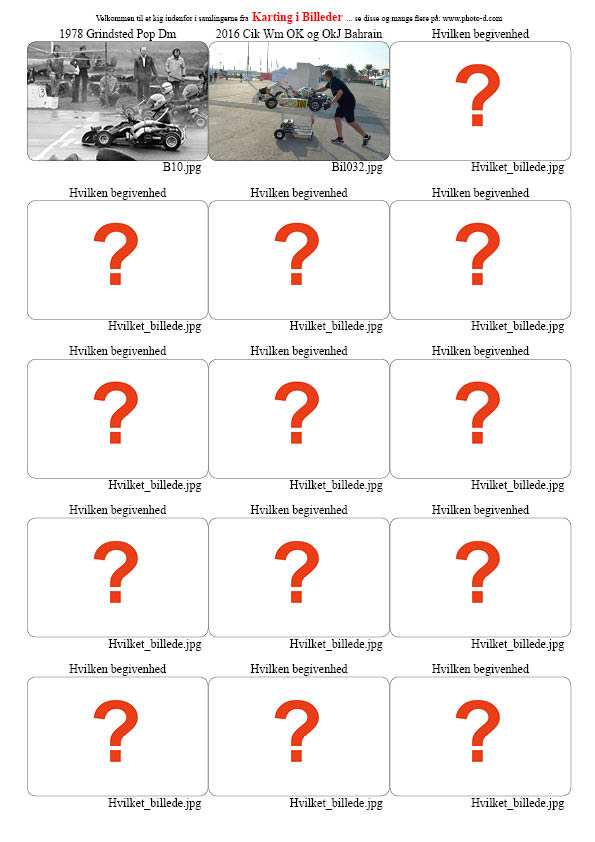 Problem
(maybe...?):
- There are several / many good recordings at Karting in Pictures you might like;
but getting chosen both which and size are not to be considered ...
Solution:
"create album pages
with / after your image selection "
- select images from both before and now that will accompany your personal collection and also get some help remembering
when and what event it was.
It can be seen how
<= on the example here

Page (s) can be delivered as well
electronic (as .pdf-file)
as
printed single pages.
As std. is printed on 120 gr. "matt coated".
Print on both sides (option) is also possible and eventually lamination (option) can protect everything.